1953-1978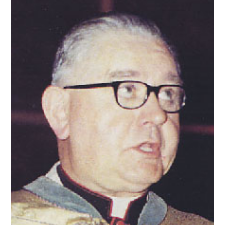 September 9, 1953
Fr. Lucius F. Barnett was appointed pastor, and arrived in the parish on September 12. It was his only pastorate. Fr. Barnett had been a professor at St. Augustine's Seminary, and had held several key positions on the Toronto Marriage Tribunal.
1955-1965
Five large stained glass windows, designed by F. Mayer of Munich, were installed in the nave. Several smaller stained glass windows were installed throughout the church and in the sacristy.
September 9, 1957
Fr. Barnett was invested in the robes of Domestic Prelate, and on September 28, 1957 was appointed Vicar Forane (Dean) of North Toronto. In 1970 he was elevated to Prelate of Honour.
1960
Architect Harold Rambusch of New York City designed a major renovation of the church, in association with Roy Orlando of Toronto. Highlights were the marble altars, communion rail and baptistry, and the lindenwood statues of St. Anthony, St. Anne and St. Joseph. Also installed were the gold-leaf carvings of the Statues of the Cross, the large medallion of Our Mother of Perpetual Help, and the massive light fixtures. Rambusch and Orlando also renovated the sacristy in 1961.
Around 1965
The carving of Pontius Pilate was stolen from the first Station of the Cross. The replacement did not quite match the other figures in scale or finish, nor was it as imposing a figure of authority.
1972
The sanctuary was renovated. A new freestanding marble altar table was built, and the old altar was redesigned to become the Blessed Sacrament altar.
June 10, 1973
The parish celebrated the 50th anniversary of its founding by inviting Archbishop Philip Pocock to celebrate a Mass of Thanksgiving and deliver the homily. No other functions marked the occasion.
September 12, 1978
Msgr. Barnett retired, 25 years to the day of his arrival in the parish.