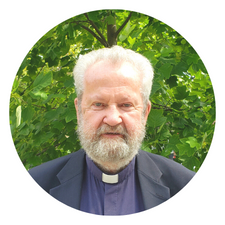 Father Frank McDevitt, Pastor
(416) 489-1540, ext. 231
Fr. Frank was raised on the farm his father was born on, in the Town of Caledon on the Gore Road. After high school, he trained as a development service worker and worked with people with special needs. His distracted youth found him backpacking in Europe for an extended period of time and working for a period as a lay missionary in Kingston, Jamaica.
Fr. Frank attended St. Thomas University in Fredericton and completed his undergraduate degree while working full time. He attended St. Augustine's Seminary from 1980 to 1984 and was ordained in November of 1984.
He has served in several parishes in the diocese and assists the Cardinal as his delegate for misconduct.
He collects Canadian art and maintains a keen interest in the history of the church in Canada. Of particular interest is how the identity of the Catholic people has evolved over the years.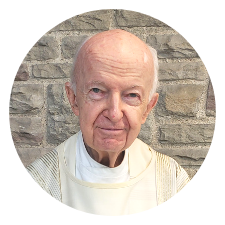 Father Daniel Donovan, Weekend Assistant
Fr. Dan Donovan was born and raised in Toronto. He is a graduate of De La Salle High School and of St. Michael's College. After completing his initial theological studies at the University of Laval, Quebec City, he was ordained for the diocese of Toronto in 1962. Between 1963 and 1965 (during the Second Vatican Council) he did graduate work in biblical studies in Rome and in 1971 completed his doctorate in theology at the University of Munster in Germany. Beginning in 1971, he taught theology in the faculty of theology St. Michael's College and since 1990 in the Christianity and Culture Program of the Faculty of Arts and Science of the University of Toronto. Although he reached the mandatory retirement age in 2001, he continues to teach in the Christianity and Culture Program at the University. Father Donovan has published a number of books and has put together a well-known collection of contemporary art at St. Michael's. Throughout his teaching career, he has always helped out on Sundays in one or another of the parishes of the Archdiocese - currently helping at OLPH.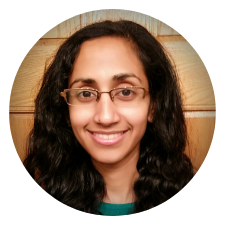 Alison Endrizzi, Lay Pastoral Associate
Alison was born in the United Arab Emirates and immigrated to Canada when she was 8. After experiencing a conversion as a teenager, Alison asked God not to make her teach and most especially not to make her teach the Catholic faith (as she was afraid of doing these things). God answered, but in the exact opposite direction! From the age of 17, Alison was involved as a volunteer at her parish in Scarborough where the parish priest (not having known her prayer) asked her to teach the faith through Confirmation classes; subsequently, she was tasked to coordinate the program. When she started university, she was asked to help lead the parish youth ministry. While in school, Alison completed a specialist in Christianity and Culture at St. Michael's College in the University of Toronto. Continuing in the direction which God seemed to be leading, she completed a Master of Religious Education at St. Augustine's Seminary in 2011. In 2012, she finished her teacher education at the Ontario Institute of Studies in Education and became an Ontario certified teacher. Alison sees God's response to her prayer as an example of His grace strengthening her in weakness — and all it took was a "yes." She is especially happy to serve Christ and His people in the Church! Alison began her ministry as Lay Pastoral Associate in December 2014.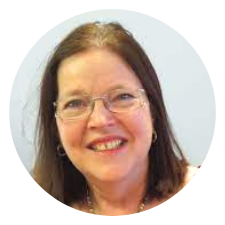 Theresa Daley, Administrative Assistant
olphtoronto@archtoronto.org (416) 489-1540, ext. 221
Theresa has been a life-long Roman Catholic and is a parishioner at Annunciation of the Blessed Virgin Mary parish here in Toronto. Theresa is currently a Lector and Eucharistic Minister and was previously involved with the RCIA team as well as collection counting at her parish. Theresa joined the staff at OLPH in January 2016 after many years working in Information Technology within the banking industry.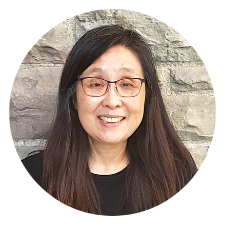 Agnes Ahn, Bookkeeper
Agnes has been serving in the Archdiocese of Toronto for 25 years. Prior to that, she was working in the banking industry for several years. Some of the faith associations she has been a part of include the Legion of Mary and the Cursillo Movement. She has also had the opportunity to participate in an 8-day Ignatian retreat. Of the many experiences she has had, she says the very best was a pilgrimage to the Holy Land. Agnes joined OLPH as the parish bookkeeper in January 2014.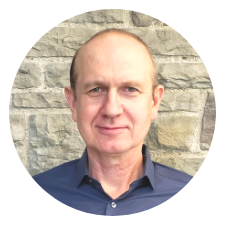 Edward Pietraszkiewicz, Custodian
olphtoronto@archtoronto.org (416) 489-1540 ext. 221
Born and raised in Poland, Edward came to Canada in 1989 to visit his sister and decided to stay. He got married in 1994. Edward has over 20 years of experience working as a maintenance/handyman person. He started working at OLPH in March 2013, taking over from his brother Roman who had looked after OLPH for some 22 years.