2002-2022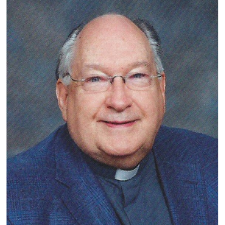 July 1, 2002
Msgr. James Hannah was appointed pastor. He had previously served as Associate Pastor of St. Mary of the People Parish in Oshawa from 1972 to 1979. From 1979 to 1982 he was on leave from the Archdiocese doing specialized training in Clinical Pastoral Education. When he returned he was appointed Director of the Office of Lay Ministry and Chaplaincy for the Archdiocese. Msgr. Hannah maintained that position until he was appointed pastor of OLPH.
July 24-26, 2002
As part of the World Youth Day events in Toronto, OLPH hosted three days of catechetical sessions for the French-speaking youth delegates. On the third day, Cardinal Jean Claude Turcotte, Archbishop of Montreal, celebrated Mass at OLPH.
October 27, 2002
Msgr. James Hannah was installed as pastor of OLPH by Bishop N. De Angelis, followed by a reception in the parish hall.
October 30, 2002
A Parish Town Hall meeting was held to talk about the nature of OLPH parish, to look at our hopes for the parish and to reflect on our future. Many parishioners attended to express their views and become involved in the re-birth of the parish community.
2003
March-April, 2003
A series of five Lenten lectures was presented by Fr. Dan Donovan, visiting priest at OLPH and professor of Christianity and Culture at the University of St. Michael's College. The theme of his Faith Renewal series was The Creed.
April 23, 2003
A meeting was held for all parish volunteers to introduce a new program that was mandated by the Archdiocese, called "Strengthening the Caring Community". Part of that program is the Volunteer Screening Program that is being adopted by a growing number of faith communities. The process includes assessing risk, writing position descriptions, discerning the suitability of an individual for a given task and providing appropriate training.
June 7, 2003
OLPH celebrated the 90th birthday and 63rd anniversary as a priest of Fr. John Brennan (living in residence) with a special Mass presided by Cardinal Ambrozic and numerous other priest friends of Fr. Brennan. The reception was combined with the First Annual Parish Spring Party in the parish hall, with a good attendance of about 250 parishioners.
June 28, 2003
Many parishioners celebrated the consecration of Fr. Matthew Gyamfi as Bishop of the Diocese of Sunyani, Ghana in West Africa. Fr. Matthew was fondly remembered as an assistant priest during his 1993-1999 stay at OLPH.
August 2003
A new audio system was installed with speakers spread around the church. It has significantly improved the audio quality throughout the church.
September 2003
In late September, a new program called "Sacrificial Giving" was introduced at OLPH. The purpose of the program was to assist parishioners in thinking about how much of one's personal/family income one is willing to share with both our church and the needy in society, followed by a commitment to that end.
October 2003
As part of the 80th Anniversary of OLPH, a project to produce a Parish Family Photo Album was initiated. Several days of photo sessions of hundreds of parish households began in early October.
2004
February 22, 2004
Bishop Matthew Gyamfi from the Diocese of Sunyani, Ghana visited OLPH and participated at the Sunday masses. He was greeted warmly by the parishioners, especially those from his earlier years as assistant priest at OLPH. His visit was perfectly timed to coincide with the start of the ShareLife campaign with a Pancake Breakfast for the first big social of the year.
March - April, 2004
A series of five Lenten lectures was presented again by Fr. Dan Donovan, visiting priest at OLPH and professor of Christianity and Culture at the University of St. Michael's College. The theme of his lectures was on the Synoptic Gospels (Matthew, Mark and Luke).
May 2, 2004
A surprise reception and party was held for Msgr. Hannah's 30th Anniversary of his ordination to the priesthood. With great efforts by the parish secretary Helen and Paul Zucchi, the surprise was somehow kept a secret for several weeks - until the end of the 9:30 Mass. A special collection was secretly taken up for Msgr. Jim to purchase a chalice as he did not have one of his own before. A cheque was presented to Msgr. Jim on May 11th in the amount of $2,537.00.
May 8, 2004
Deacon Joey Oriasel was ordained to the priesthood by Aloysius Cardinal Ambrozic at St. Michael's Cathedral, together with his five diocesan colleagues. His mother and sisters came from the Philippines to attend the ordination. His first Mass was held at 11am at OLPH, followed by a reception to celebrate the happy occasion.
June 6, 2004
The second Annual Party and BBQ was held after the 11:00 am Mass - another successful event. Many establishments in the area contributed food, drinks, gift certificates, etc. Raffles and jelly-bean counting games were held as well as paint-a-face fun for the kids.
December 19, 2004
Christmas Cheer Afternoon - An early Christmas gathering was held from 12 noon to 2 pm in the Parish Hall - with refreshments and goodies plus appearance by Santa Claus.
2005
January 2, 2005
Asian Tsunami Relief Fund - ShareLife channeled funds to assist victims of the December 26, 2004 tsunami, which significantly devastated many Asian countries. OLPH participated in this program, collecting almost $25,000 which was matched by the Federal Government.
January 10, 2005
Pre-Authorized Giving Program - Over the past two years, the Archdiocese had introduced a program for parishes called "The Pre-Authorized Giving Program". OLPH joined this Program that enables parishioners to have their regular offerings transferred directly from their bank account to the parish on a monthly basis. Of course, the program was entirely optional. It may not appeal to all parishioners but it was made available to those who might find it to be a convenient alternative.
March 19, 2005
Toronto Welsh Male Voice Choir Concert - The purpose of this concert was twofold: (a) to provide the local community with the opportunity of experiencing the music of this internationally renowned choir and (b) to raise some much-needed money to add to our Church Organ Repair Fund. A cocktail hour preceded the delightful concert itself which was well attended by OLPH parishioners and many visitors.
June 12, 2005
Third Annual Parish BBQ - A hot humid day didn't stop this annual Loonie/Toonie BBQ after the 11 am Mass. Many volunteers helped with the set up and take down to make this another successful event.
September 24, 2005
150th Anniversary of St. Michael's Catholic Cemetery - The 150th Anniversary Mass was celebrated by retired Bishop Pearse Lacey on the grounds of the Cemetery. This Cemetery was opened in 1855 in the "north" part of Toronto. The OLPH School and Church both started, as forerunners, on the grounds of St. Michael's Cemetery. In 1860 a wood-frame schoolhouse, St. Charles School, was built there. In January 1923, it was re-opened at the present site of the OLPH School.
October 16, 2005
Announcing New Parish Pastoral Council - From Msgr. Hannah: "I am very pleased to announce that Our Lady of Perpetual Help Parish now has a new Parish Pastoral Council. The members of the council include: Alain Agostini; Larry Archer; Martha Bennett; Merle Buote; John Burke; Krysta Foss; Audrey Heinz; Hugh Kelly; and David Santilli."
October 17, 2005
Fr. John Brennan passed away peacefully at Toronto in his 93rd year (June 7, 1913 - October 17, 2005). He was the former pastor of St. Patrick's Parish, Schomberg, St. Mary's Mission, St. Mark's Parish, Etobicoke and long-time resident of OLPH Church. The Funeral Mass on October 21st was concelebrated by many priests -- presided by Aloysius Cardinal Ambrozic and assisted by Retired Bishop Pearse Lacey and Msgr. Jim Hannah. Internment is at Queen of Clergy Cemetery at St. Augustine's Seminary in Scarborough, Ontario.
2006
January 9, 2006
Msgr. Jim announced that beginning January 9th of 2006 a new Lay Pastoral Associate, Karen Corcoran, will begin ministry in this parish.
March 4, 2006
An Evening of Reflective Music in support of the Organ Repair Fund was held in the church on March 4th followed by a reception in the parish hall. Organ works were performed by the OLPH organists, Peter Daly and Boniface Fung.
May 14, 2006
Msgr. Jim announced that in the fall OLPH will be initiating a process to identify and articulate a pastoral vision for the future of OLPH Parish.
May 28, 2006
OLPH Newsletter - Its inaugural edition was launched in May, with Krysta Foss as Editor. The purpose of the Newsletter is to reflect some of the life of the parish community and beyond.
June 25, 2006
Fourth Annual Parish BBQ/Picnic
September 10, 2006
The writeup for the Planning for the Future of OLPH were inserted in 3 bulletins.
September 10, 2006
The OLPH Organ Fund Raising was started, thanks to the generous donations of our parishioners. Numerous prizes were advertised for the Raffle tickets to be drawn on Christmas Cheer Sunday on Dec. 10th.
September 26, 2006
A Women's Faith Sharing Group, led by Karen Corcoran, started to meet regularly from September. This was an opportunity for women to listen, reflect and share on the action and presence of God in their daily lived experiences in light of Scripture and Faith.
November 1, 2006
The OLPH Parish Office was temporarily relocated to the Church Hall due to the major renovations to be done in the Rectory over the next 4-6 months.
November 3, 2006
The Churches-on-the-Hill was celebrating the 50th Anniversary this year. The final event was a dinner on November 3rd to celebrate the anniversary for the church members.
November 11, 2006
A Remembrance Day Requiem Concert was held to a full house in the OLPH church. It was sung by the All the King's Voices plus the OLPH Choir.
December 10, 2006
Christmas Cheer party was held where the raffle winners of the OLPH Organ Fund Raising were announced.
2007
January 7, 2007
A Welcome Brochure was introduced in a paper version (placed at back of church) as well as in a new section on the website.
February 25, 2007
First survey of OLPH Web Site was carried out to get parishioner feedback.
April 1, 2007
Audio version of Homilies was made available on web site - read writeup in the April 22nd Bulletin.
April 22, 2007
A new Prayer/Devotion Section was added to the Web Site.
April 22, 2007
The second OLPH Newsletter was issued with a fitting name of "The Icon".
April 29, 2007
A new Church Sign was installed on St. Clair Avenue.
July 3, 2007
OLPH Office re-opened after Rectory renovations finally completed
September 9, 2007
Fr. Guenter Petricek took up residence at OLPH while helping at Masses.
September 22, 2007
A meeting was held for the final phase of the Pastoral Planning for the next 3-5 years with a practical Vision for OLPH
Oct. 25 - Nov. 8, 2007
On three Thursday afternoons, Fr. Guenter Petricek covered the History of the Church in the first 2,000 years
2008
February 6 - March 19
A Lenten Pilgrimage of Sacred Spaces 2008, organized by the Yorkminster Park Baptist Church and joined by the Churches-on-the-Hill. This ecumenical Pilgrimage visited six churches and one synagogue throughout the city.
March 9
A new bi-weekly e-Newsletter "The Insider" was launched by the website committee. The purpose of this newest form of parish communication is to inform parishioners by email of what's going on in the parish, archdiocese and beyond.
March 21
The 15th annual Good Friday Walk had a good turnout, visiting and praying at the participating Churches-on-the-Hill.
April 26-28
OLPH School celebrated their 150th Anniversary
February - June
Fr. Guenter Petricek gave a series of monthly talks following the Thursday 12:10 mass - including Church History, Lenten reflections, about Mary and about St. Paul (for Pauline year starting June 28, 2008)
September 14
The OLPH Parish Mission Statement was issued as an insert with the Sept. 14th bulletin - now on the Homepage of our site
2009
January 9 — Former OLPH pastor, Fr. Wilfred Firth, died peacefully in his 86th year. His Funeral Mass was held on Jan. 15th at Blessed Trinity Church which he built in the mid-1960's.
March 29 - April 1 — Parish Lenten Mission. The 4-day mission was conducted by Fr. Steve Vasek & Sr. Jean Fitzpatrick from Buffalo, NY, and supported by Mission Teams of some 25 parishioners.
April 19 — Msgr. Jim's 35th Anniversary. A surprise party was held for his 35th Anniversary of his priesthood ordination - after the 9:30 and 11:00 masses.
Dec. 6 — Two new Sections "Parish Donations & "Planned Giving" were added to our website. The first method is by Pre-Authorized Giving (PAG) or the weekly Sunday envelopes. The second one includes numerous other methods to support your parish, e.g., stocks, estate, etc.
2010
Feb. 1 — Haitian Earthquake Relief - donations were accepted by ShareLife for relief efforts following the Jan. 12th catastophic earthquake in Haiti. A special archdiocesan collection was also taken up at all parishes on Jan. 24-25. An ecumenical Prayer Service for the earthquake victims was held on Feb. 1st at St. Paul's Basilica with representatives from GTA faith communities including Archbishop Thomas Collins.
Jan. 24 — Week of Prayer for Christian Unity (Jan. 17-24) - the main ecumenical service was held on Jan. 24th at the Timothy Eaton Memorial Church. The major Christian leaders and city-wide clergy attended with Archbishop Thomas Collins preaching at the service.