Fr. Wilfred B. Firth, Sixth Pastor
1993-1998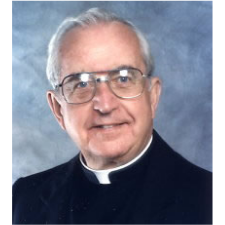 December 15, 1993
Fr. Wilfred B. Firth was appointed the pastor. Father had served as associate pastor and pastor in several parishes in the Archdiocese of Toronto.
June 8, 1997
Fr. Firth celebrated his 45th anniversary Mass of his ordination, followed by a reception in the parish hall.
April 19, 1998
The parish commemorated the 75th anniversary of its founding by having a Mass of Thanksgiving at which Aloysius M. Cardinal Ambrozic was the principal celebrant and homilist. A parish reception followed. A history of the parish and biographies of the pastors were written.
June 30, 1998
Fr. Firth retired.
January 9, 2009
Fr. Firth died peacefully in his 86th year with his funeral mass held on Jan. 15 at Blessed Trinity Church which he built in mid-1960.
---
Photo of Fr. Wilfred Firth is courtesy of the Archives of the Roman Catholic Archdiocese of Toronto (ARCAT).