1923 - 1925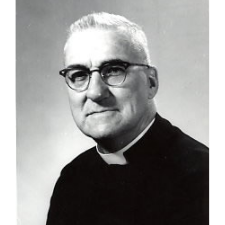 February 20, 1923
Archbishop Neil McNeil, writing from New York City, established the parish of St. Charles for the "Moore Park" section of Toronto, and appointed Fr. Francis H. Pennylegion as its first pastor. It was Fr. Pennylegion's first pastorate.
Late February/Early March 1923
Fr. Pennylegion changed the name of the parish to St. Catherine of Siena (1347-80), in honour of an Italian mystic and diplomat and a member of the Third order of the Dominicans, who was canonized in 1461. Mass began to be celebrated in St. Charles School, a two-room brick building constructed in 1881. Located on Yonge Street below St. Clair, on the south side of the roadway leading into St. Michael's Cemetery, it was the second school on the site. The original school was a one-room frame structure built around 1856. Both had been erected by St. Basil's parish, whose northern boundary was then York Mills.
Summer 1923
The Archdiocese officially took over St. Charles School for a chapel. (A new school for the parish had opened on Garfield Avenue in January 1923.) Renovations and an addition, designed by architect Arthur W. Holmes, were made to the old school at a cost of $4,620. In August 1923, the parish borrowed $350 from the Archdiocese to pay for pews, kneeling benches and a confessional, purchased from Newman Hall; the St. Catherine's Ladies' Auxiliary paid off the debt in two years. High Mass was sung for the first time on October 7, 1923.
September 1925
Fr. Pennylegion resigned from the parish. In 1926 he became the founding pastor of Blessed Sacrament parish in north Toronto.
---
Photo of Fr. Francis H. Pennylegion is courtesy of the Archives of the Roman Catholic Archdiocese of Toronto (ARCAT).